If you know me at all, you are aware of the fact that I'm a bit obsessed with Target and midcentury design.
So when I saw this lamp on our last Target trip I fell in love.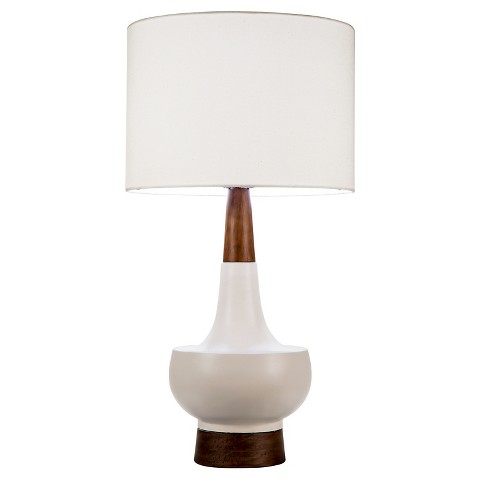 But not with the $65.99 price tag. I refuse to pay that for a Target lamp, or a Target anything for that matter. Target is for clearance deals, the dollar spot, and cheap popcorn.
So the lamp stayed on the shelf.
Fast forward a week, perusing the aisles at my local Goodwill, I spotted this!
Sure it was more than a bit dingy and the shade wasn't the right scale, but otherwise it was perfection.
And $6.99.
So I brought it home, spiffed it up with a fresh coat of white paint, added a shade I already had hanging out in our laundry room, and voila!
I wish the details are more visible in this photo, but you can see them in the before. I'm in love with the texture and pattern on the base, and that wood makes me drool. So good.
Is there anything better than a fantastic thrifted find? I think not.

Have you scored any awesome thrifted deals lately? Show me! Oh, and if you want more tips on Goodwill shopping, check out my 5 Rules for Scoring Big at Goodwill!
XO,