Amid my hectic, stressful weekend, I was able to get away for a little bit with my mother-in-law, who was so sweet to take me to a local antique fair. After we had been there for a few minutes we realized that it wasn't quite our kind of antique fair...rather spendy...but I did come away with a few treasures/bargains that I absolutely love.
These blocks were $2 each and how perfect that the "o" has an owl on it! (if you are new to my blog, my boys' nursery is filled with owls.
But my favorite find for the day is this coat rack. The seller told me that it is made out of salvaged trim from an 1800's farmhouse and the paint is original. He had it priced at $20 but thanks to my mother-in-law's sneaky haggling, I scored it for $20! Now to find the perfect place in the new house to hang her! (yes, I have decided it is a she)
And speaking of owls...look what my friend
Kelly
made for the boys! His name is Bendon (get it...Ben and Landon). I love him and can't wait to meet him in person! I especially love the little heart on his booty.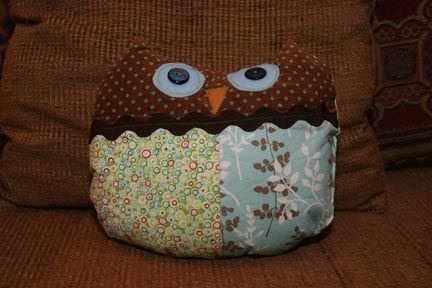 And its the beginning of a new week. We have our first open house this coming Sunday so I'm already anxious about that. We are trying our best to keep the house in order but it is so hard with the boys. They are both sooo clingy right now and getting them to play by themselves has been a big challenge. I'm going to do my best to do a little bit here and there during the week so Sunday morning doesn't turn into panic mode.
Happy Monday everyone!