Our last stop on this week's Bloggin Moms @ Home series is the home of a friend I hold near and dear to my heart...Miss Erin from
Rare and Beautiful Treasures
. I've had the pleasure of being not only an internet friend with Erin but also meeting a few times in real life, and she is the real deal friends. So happy to have you Erin!
****************************************
Hi everyone! My name is Erin and I live with my husband of 10 years and two little boys in a big ol' fixer-upper on a few rolling acres in rural North Carolina.
I keep a blog called
Rare & Beautiful Treasures
where I write about motherhood, decorating and life abundant. Here I am with my little lambs.
I have a passion for designing children's spaces. My design taste leans toward vintage and whimsical in any case but translates so well to rooms for little ones! When Mandy asked me to share a room in our home where I spend time with my babes, I knew it would be fun to share our nursery/playroom. This room functions as both a nursery for my 8 month old son and a play area for my 3 year-old little boy.
This is James' crib with bedding I designed. The skirt is made out of a vintage table runner.
Lowercase kraft letters via
Etsy
.
When we bought our house, the hardwood floors were covered with very old carpet and the wood was in desperate need of refinishing. I painted the floors in this room with a high-gloss oil-based porch and floor paint. I love the look of painted hardwood floors in a child's room and it is an extremely cost-effective solution for old floors. I painted the wood floors in our beach cottage nursery as well, you can see that room
here!
The waterfall chandelier in this room was a vintage find via Ebay. It came from an estate sale in California.
Every children's space needs a chalkboard wall!
A nice contrast to a fancy-pants chandelier. I love contrast!
The boys' grandmother knitted this little lamb piece, which is a sweet and unique bit of art.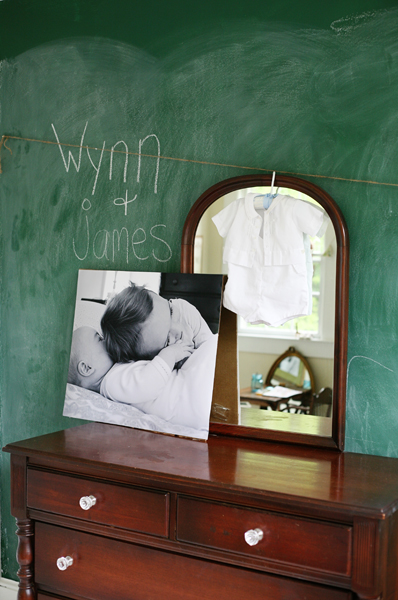 This dresser belonged to my boy's Great Grandmother. We inherited it and I switched out the knobs for crystal ones I found at Lowes.
The play side of the room! A little table for art projects and books.
"My Whole Heart" piece by
Between You & Me Designs
, Etsy.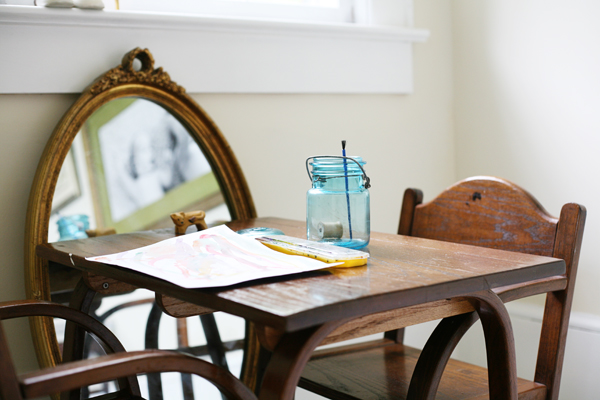 Sweet Heavenly Molasses print, also via
Etsy
.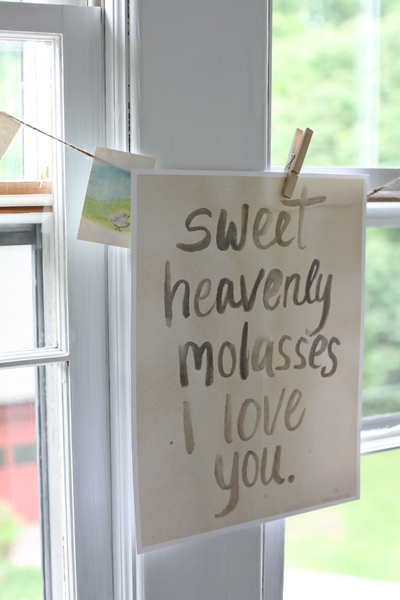 A baby grand piano because my 3 year-old loves music.
Old style doorknobs ( which are actually brand new) from Lowes!
Vintage book pages decoupaged onto wooden triangles make for a one of a kind bunting. Again, via
Etsy
.
Pages from a 1950s storybook hung by clothes pins onto twine.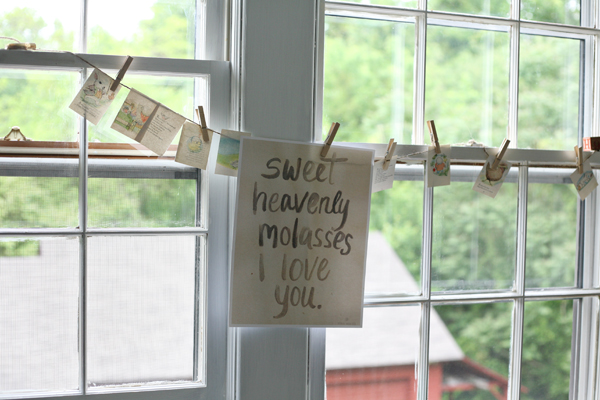 Gallery wall with baby clothes, art & photos.
This is just a fun, fun space where my boys and I enjoy spending time. Thanks, everyone, for stopping by!
************************************
Thanks so much for this beautiful tour Erin! I love the chalkboard wall and all of the vintage, whimsical touches! And those boys of yours...heartbreakers. :)
Thanks everyone for playing along this week! I will definitely be doing another series like this!