So my friend
Janny
posted this on her blog and I thought it was fun, so here's my list-->
On My Bedside Table:

prenatal vitamins
kleenex
B&BW tranquil mint foot cream
alarm clock of course
dust
Movies I want to See:

Juno
Atonement
27 Dresses
The new James Bond flick - comes out in May!
Latest Interests:
anything baby related of course
organizing our house
On My Mind:

our kitchen- hoping I'll have a counter installed when I get home today
my babies and everything related to them
Learning:
to be patient with life and take each day as it comes
to be thankful for the small things in life that make it so wonderful
Making:

scrapbook pages - glad to have my mojo back
Looking Forward To:

cooking a meal in my finished kitchen
finding out the sex of the babies
decorating their nursery
Enjoying:

my new comfy maternity pants
my hair-I love good hair days!
the return of my sweet tooth
Amused By:

Family Guy
my husband
my cats
And for other fun things...here is how my belly looks as of Saturday...getting big!! Tomorrow I'll be 19 weeks!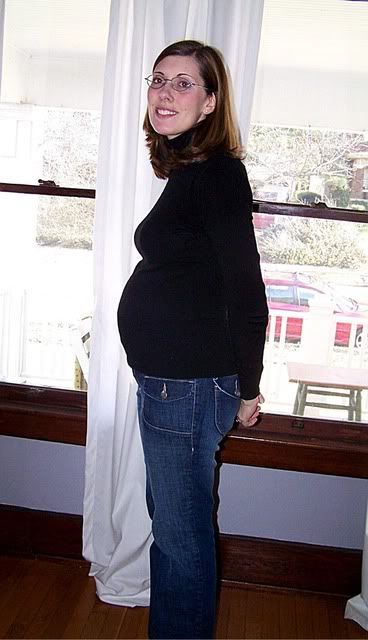 We were finally able to get out of town on Saturday and do some clothes shopping for me. Sadly my dress pants weren't fitting anymore, so I desperately needed new work clothes. I really hit the jackpot...found a bunch of cute stuff and it was all on sale. Score! :)
Yesterday I went through all of my clothes, took out a ton of stuff for Goodwill, and put away (sniff sniff) the stuff I won't be wearing for awhile. Although I'm very happy and excited to be pregnant, there is something very disheartening about looking at clothing that you're not sure you will ever fit into again. But, it does feel really good to have everything organized, and not have to look at the stuff I can't wear every time I go to get dressed.
I have also been doing quite a bit of scrapbooking the past few weeks. Christmas pictures, a 2007 review (got the idea from the latest Scrapbooks Etc.) and our 4 year wedding anniversary. Thanks for taking a peek!